Koothanallur is a small town, Between Mannargudi and Thiruvarur in Tamil Nadu, India. It has a population of nearly 40,000 people, majority being the Islamic Community. It is a very active town, where everybody is very active involving themselves in one activity or another.

The history of this village traces back to the ancient period, when there were business contacts with the East - European countries. So no wonder the people are interested in business more than anything else, and earning money by staying in foriegn countries is mixed in their blood. The famous tamil proverb, "Thirai Kadal Odiyum Thiraviyam Thedu" aptly suit for the people of this town, where it is not uncommon to hear that the male in the house is working abroad, either in East Asian Countries, or the Arabian Countries or in American Countries.

One appreciable spirit that is found as common in everybody here is that they love their village more than anything else, even if they are put up else where and even if that place is like a heaven on earth.

We cannot be, without saying a word about the women folk in this village. They maintain their family very well even if their spouse if abroad earning money for their family. The marriages here are celebrated with such joy and happiness that the whole village participates in a marriage that is happening in their village. Most of the women are educated atleast to the +2 level.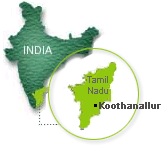 Transport
Thiruvarur
Thiruvarur is one among the districts of TamilNadu that has rooted its existence to the sangakaala period of TamilNadu.
Even a kid in TamilNadu knows the story of Manu Nidhi Cholan who assassinated his own son a to give justice to Cow. The bell that the cow rang is still there to say his glory to the world.

Koothanallur is small village in this district situated near Mannargudi. It has a population of 40,000, having majority of them as Muslims.